You are likely here because the nature of your job as a dental professional is incredibly hard on the body. The physical pain that comes along with repetitive motion disorders in our career field are sometimes unbearable. There is also a certain level of stress that comes along with serving patients in this intimate capacity. This course will transform you physically and emotionally. Learn how yoga can heal your body, and improve your overall mental state. Learn specific breathing techniques to help with the new stresses of additional PPE during this current pandemic. Learn how to implement a quick, daily routine that will save your body and increase the longevity of your career. Understand how to help your patients and coworkers through your own transition in to a healthier state of being. Join the Sentient Yoga Community and learn from my own personal journey, as a yogi, and a hygienist. Learn what brought me to this place of teaching and what I have so intimately learned throughout the years. Witness how, you too, can transform your life, prolong your career, become more centered, balanced, and yes, flexible. Take your career to the next level. Train to understand the quick fixes to heal your body and improve your overall well-being. Thank you for joining!
"I have had fantastic experiences with Sentient Yoga. Selina is a very skilled instructor and I love attending her classes. She has taught me so much about yoga and how to better care for my body. Highly recommend this studio/instructor for anyone interested in high quality instruction in a very supportive and calming environment."
- Dr. Sara Garcia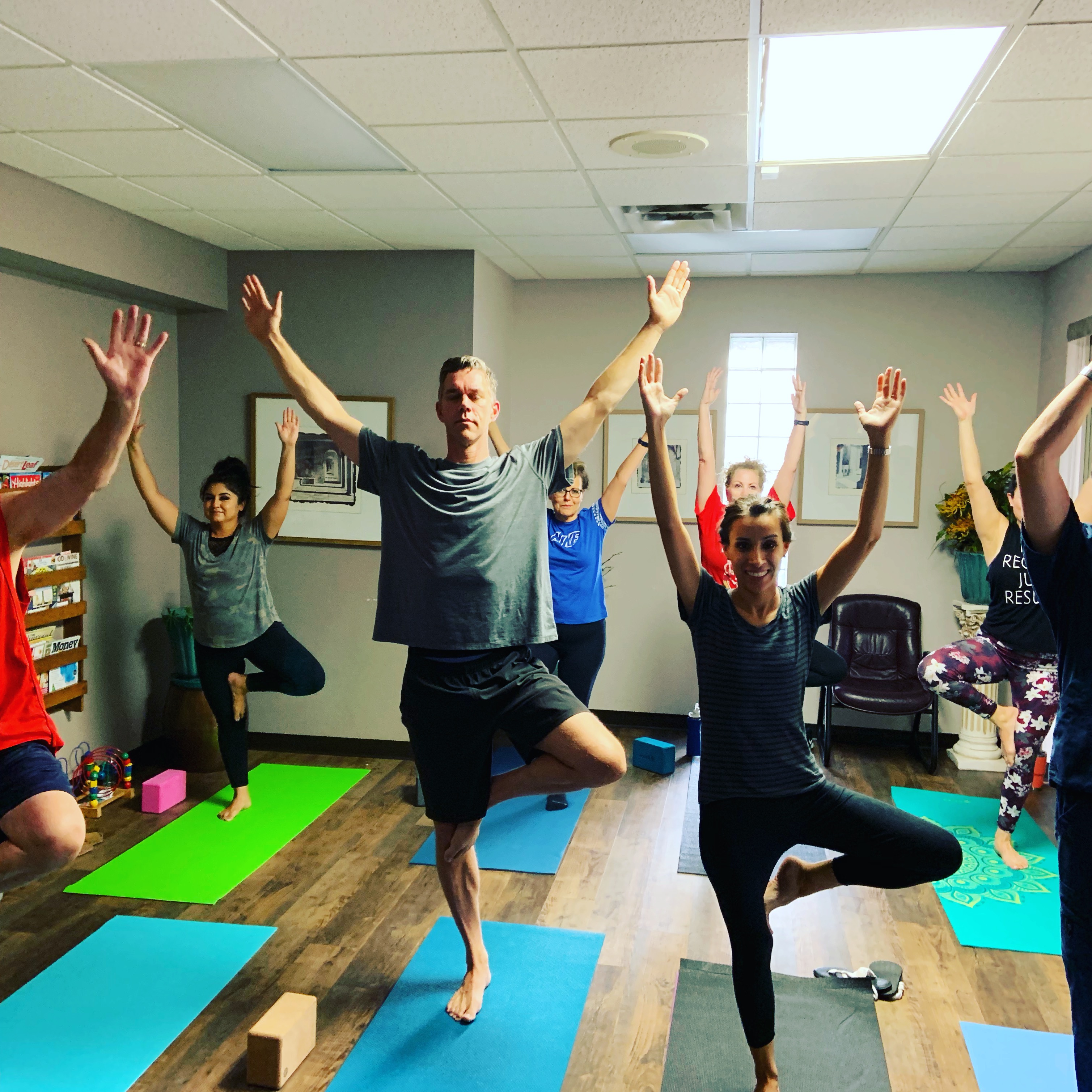 Hi, I'm Selina Harris, founder of Sentient Yoga, RDH, wife, mother, dog and nature lover, and coach for dental professionals.
I created Sentient Yoga in 2018 as a way to help my community of dentists, hygienists, and dental assistants. My background in yoga goes back about 25 years. I fell in love with yoga the very first time I attended a class. This was back when the Yoga Connection was in downtown Tucson. Over the years I continued to practice, mainly asana. We'll dive in to meanings in this course, but asana means posture and is what most people think of when they think of yoga. My practice was never consistent until I started working as a hygienist. It was immediately obvious that I would absolutely have to practice regularly to eliminate some of the pain I was experiencing. Over the next few years I worked a minimum of 4 days a week (usually 8 hours a day) and sometimes 6 days a week as a hygienist. The health of my body quickly began to deteriorate. I'll never forget being on vacation in Atlanta and realizing I could not hold my coffee mug with my left hand. My hand would not close around it to grasp it, and did not have enough strength to hold it alone. You all understand what I had gone through to become a hygienist. The struggles and sacrifices I took on and overcame to enter this profession give me pride. There is no way I was going to give up my career due to these ailments in my body. My mind and emotional state had a toll taken on them as well. I knew I had to do more to fix myself. I enrolled in and completed yoga teacher training in the fall of 2018. This was something I had always wanted to do and it was time. My daughter had just began to drive and depended on me less than ever before. My husband supported me taking on this new journey and so I went! I am certain I have never been so excited about any kind of schooling, and I have completed a lot of school! From paralegal, to three associates, and two-thirds of a finance degree, this was the one. Yoga teacher training finally gave me what I had needed for so long. An understanding of how to help my body heal from what hygiene was putting it through. An understanding of how to use the power of breath work to change my responses to my environment. An understanding of the power of yoga and the ability to nurture the nerves, thoughts, and mind. Through the process of becoming certified I began to teach my dental office co-workers. I was very fortunate to work for a doctor who had his own yoga studio, connected to the dental office! It is very clear to me now that this path is the one I was truly meant to travel. I continued to teach over the course of the next year or so and realized that I would continue to grow my knowledge and expand the reach I was able to help dental professionals through. I entered Yoga Therapist training in January of 2020. These trainings enable me to achieve my 500 hour certification. So much more important than any certification is what they enabled me to help my clients with. I was now able to work individually with clients to solve major problems. Working with yoga for depression, or motorcycle accident victims, I was able to dive so much deeper in to the true power of yoga. I'll never forget one of my clients telling me "You did more for me in an hour and a half than two nurses working around the clock for months". I am so delighted to finally have created the course work I have planned to teaching for the past few years. Dental Professionals Heal! - truly a transformational journey to heal your body and improve your overall well-being. Over the course of six weeks you will learn specific yoga asanas and breath work to heal your body and mind. You will learn how to implement a daily practice that is achievable and what needs to be included in that practice. You will learn that it is not necessarily about the time you spend on this daily practice, but your commitment. You will learn about other yogic modalities including mudras, mantras, and seed sounds. This course will keep you motivated, engaged, and accountable. Live coaching will ensure individualized care and an opportunity to have each of your intimate concerns and questions addressed. The course is catered to YOUR needs. Thank you for joining and taking the time for yourself and your healing with Sentient Yoga and the Dental Professionals' Therapeutic Yoga School!